CLM-232XX-XX 19" Wallmount Rack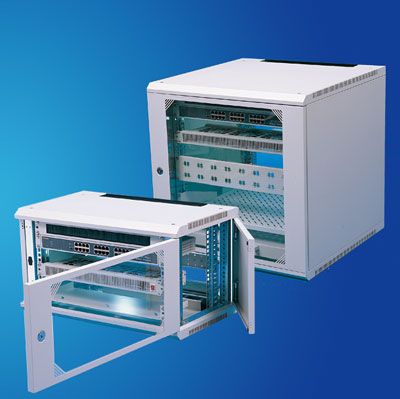 See more Pictures
19" Industrial Equipments
ANSI/EIA-RS-310C/D
Sheet Steel
Powder coating for RoHS compliant

UL/C

E certification

Black & Beige for color selections
Features:
Applications for server systems, telecommunication systems, community network, network system, monitoring system.
Meets 19" industrial standard, such as ANSI/EIA-RS-310C/D
"D.I.Y." package for saving more freight cost and room.
Optional castors suit for ground type.
Two additional entries on the roof and plinth are good for the cable management.
The vented design on the top panel , the bottom panel can efficiently reduce the interior heat for higher ventilation.
Spongs on cable entries can block dusty and keep cable and keep the system secure.
Design of the roof & the plinth for easily assembly & dismantled.
Temperated on the door can keep security of the system and convenient to monitor the condition without opening the door.
Powder coating for RoHS compliant .
Black & Beige for color selections .
All product are made in Taiwan.
ODM & OEM product are welcomed to contact us.
Other specifications of the product are made by order, such as 450mm depth and so on.
| | | | | |
| --- | --- | --- | --- | --- |
| Width | Depth | H(mm) | He(U) | Model No. |
| 600mm | 400mm | 241.8 | 4U | CLM23240-04AC |
| 600mm | 400mm | 330.7 | 6U | CLM23240-06AC |
| 600mm | 400mm | 464.05 | 9U | CLM23240-09AC |
| 600mm | 400mm | 597.4 | 12U | CLM23240-12AC |
| 600mm | 400mm | 730.75 | 15U | CLM23240-15AC |
| 600mm | 400mm | 864.1 | 18U | CLM23240-18AC |
| | | | | |
| 600mm | 500mm | 241.8 | 4U | CLM23250-04AC |
| 600mm | 500mm | 330.7 | 6U | CLM23250-06AC |
| 600mm | 500mm | 464.05 | 9U | CLM23250-09AC |
| 600mm | 500mm | 597.4 | 12U | CLM23250-12AC |
| 600mm | 500mm | 730.75 | 15U | CLM23250-15AC |
| 600mm | 500mm | 864.1 | 18U | CLM23250-18AC |
| | | | | |
| 600mm | 600mm | 241.8 | 4U | CLM23260-04AC |
| 600mm | 600mm | 330.7 | 6U | CLM23260-06AC |
| 600mm | 600mm | 464.05 | 9U | CLM23260-09AC |
| 600mm | 600mm | 597.4 | 12U | CLM23260-12AC |
| 600mm | 600mm | 730.75 | 15U | CLM23260-15AC |
| 600mm | 600mm | 864.1 | 18U | CLM23260-18AC |
| | | | | |
---