CLM-2305X 10" Small Wallmount Rack/ Cabinet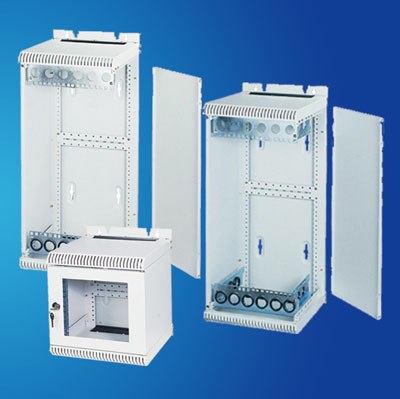 See More
10" Industrial Equipments
ANSI/EIA-RS-310C/D
1.2mm Sheet Steel
Powder coating for RoHS compliant

UL/C

E certification

Black & Beige for color selections
Features:
Applications for networking, communication & monitoring system, such as industrial hubs.
With 10" industrial standard, such as ANSI/EIA-RS-310C/D.
Vented holes on frames for better cable management.
One additional entries with brushes on the roof and plinth isolate dust and keep systems secure.
An optional cooling system set on the roof helps control systems temperature.
Temperated glass on the door can keep security of the system and convenient to monitor the conditon without opening the door.
Powder coating for RoHS compliant.
Black & Beige for color selections.
OEM & ODM are welcomed to contact us.
| | | | | |
| --- | --- | --- | --- | --- |
| Width | Depth | H(mm) | H(U) | Model No. |
| 300mm | 300mm | 309.49 | 4U | CLM-23050-304 |
| 300mm | 300mm | 487.25 | 8U | CLM-23050-308 |
| 300mm | 300mm | 665.05 | 12U | CLM-23050-312 |
| | | | | |
| --- | --- | --- | --- | --- |
| Width | Depth | H(mm) | H(U) | Model No. |
| 300mm | 300mm | 665.05 | 12U | CLM-23051-312 |
| | | | | |
| --- | --- | --- | --- | --- |
| Width | Depth | H(mm) | Ht(U) | Model No. |
| 300mm | 300mm | 665.05 | 12U | CLM-23052-312 |
| | | | | |
| --- | --- | --- | --- | --- |
| Width | Depth | H(mm) | H(U) | Model No. |
| 300mm | 300mm | 665.05 | 12U | CLM-23053-312 |
---