CLM-232XX-XX 19" Economic Wallmount Rack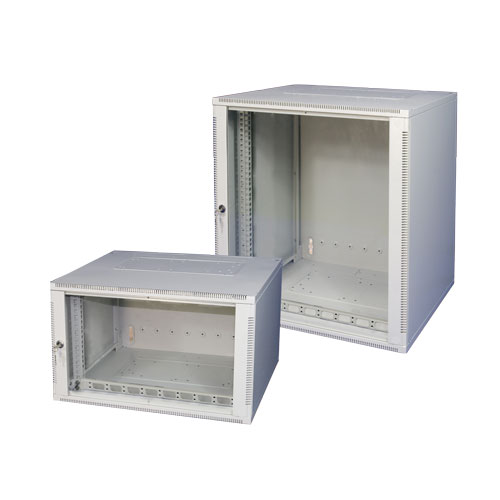 See More
19" Industrial Equipments
ANSI/EIA-RS-310C/D
Sheet Steel
No flat package
Powder coating for RoHS compliant

UL/C

E certification

Black & Beige for color selections
Feartures:
Applications for networking, communication & monitoring system.
With 19" industrial standard, such as ANSI/EIA-RS-310C/D.
The assemblied rack in a package will save more time in installations.
One piece of the main frame, including a roof, a rear and bottom panels.
Two additional entries on the roof and plinth are good for the cable management.
An optional cooling system set on the roof or the bottom helps whole system cooler.
Design of the roof & the plinth for easily assemblied & dismantled.
Temperated on the door can keep security of the system and convenient to monitor the conditon without opening the door.
Powder coating for RoHS compliant .
Black & Beige for color selections .
| | | | | |
| --- | --- | --- | --- | --- |
| Width | Depth | H(mm) | H(U) | Model No. |
| 600mm | 200mm | 241.8 | 4U | CLM23220-04CB |
| 600mm | 200mm | 330.7 | 6U | CLM23220-06CB |
| 600mm | 200mm | 464.05 | 9U | CLM23220-09CB |
| 600mm | 200mm | 597.4 | 12U | CLM23220-12CB |
| 600mm | 200mm | 730.75 | 15U | CLM23220-15CB |
| 600mm | 200mm | 864.1 | 18U | CLM23220-18CB |
| 600mm | 200mm | 997.45 | 21U | CLM23220-21CB |
| | | | | |
| 600mm | 250mm | 241.8 | 4U | CLM23225-04CB |
| 600mm | 250mm | 330.7 | 6U | CLM23225-06CB |
| 600mm | 250mm | 464.05 | 9U | CLM23225-09CB |
| 600mm | 250mm | 597.4 | 12U | CLM23225-12CB |
| 600mm | 250mm | 730.75 | 15U | CLM23225-15CB |
| 600mm | 250mm | 864.1 | 18U | CLM23225-18CB |
| 600mm | 250mm | 997.45 | 21U | CLM23225-21CB |
| | | | | |
| 600mm | 300mm | 241.8 | 4U | CLM23230-04CB |
| 600mm | 300mm | 330.7 | 6U | CLM23230-06CB |
| 600mm | 300mm | 464.05 | 9U | CLM23230-09CB |
| 600mm | 300mm | 597.4 | 12U | CLM23230-12CB |
| 600mm | 300mm | 730.75 | 15U | CLM23230-15CB |
| 600mm | 300mm | 864.1 | 18U | CLM23230-18CB |
| 600mm | 300mm | 997.45 | 21U | CLM23230-21CB |
| | | | | |
| 600mm | 350mm | 241.8 | 4U | CLM23235-04CB |
| 600mm | 350mm | 330.7 | 6U | CLM23235-06CB |
| 600mm | 350mm | 464.05 | 9U | CLM23235-09CB |
| 600mm | 350mm | 597.4 | 12U | CLM23235-12CB |
| 600mm | 350mm | 730.75 | 15U | CLM23235-15CB |
| 600mm | 350mm | 864.1 | 18U | CLM23235-18CB |
| 600mm | 350mm | 997.45 | 21U | CLM23235-21CB |
| | | | | |
| 600mm | 400mm | 241.8 | 4U | CLM23240-04CB |
| 600mm | 400mm | 330.7 | 6U | CLM23240-06CB |
| 600mm | 400mm | 464.05 | 9U | CLM23240-09CB |
| 600mm | 400mm | 597.4 | 12U | CLM23240-12CB |
| 600mm | 400mm | 730.75 | 15U | CLM23240-15CB |
| 600mm | 400mm | 864.1 | 18U | CLM23240-18CB |
| 600mm | 400mm | 997.45 | 21U | CLM23240-21CB |
| | | | | |
| 600mm | 500mm | 241.8 | 4U | CLM23250-04CB |
| 600mm | 500mm | 330.7 | 6U | CLM23250-06CB |
| 600mm | 500mm | 464.05 | 9U | CLM23250-09CB |
| 600mm | 500mm | 597.4 | 12U | CLM23250-12CB |
| 600mm | 500mm | 730.75 | 15U | CLM23250-15CB |
| 600mm | 500mm | 864.1 | 18U | CLM23250-18CB |
| 600mm | 500mm | 997.45 | 21U | CLM23250-21CB |
| | | | | |
| 600mm | 600mm | 241.8 | 4U | CLM23260-04CB |
| 600mm | 600mm | 330.7 | 6U | CLM23260-06CB |
| 600mm | 600mm | 464.05 | 9U | CLM23260-09CB |
| 600mm | 600mm | 597.4 | 12U | CLM23260-12CB |
| 600mm | 600mm | 730.75 | 15U | CLM23260-15CB |
| 600mm | 600mm | 864.1 | 18U | CLM23260-18CB |
| 600mm | 600mm | 997.45 | 21U | CLM23260-21CB |
| | | | | |
---